Well.. Maybe not world domination. :)

---
Subscribe to our mailing list
During 2013 I really took my "learning in transit" skills to the Next level. I started following podcasts seriously, and I must say that it have had a tremendous impact in my learning and improvement in general. For instance every time (ok. Not every time.. :), but almost every time) I am doing tasks that require minimum intelligence like walking, cleaning, doing the dishes, riding the bus or any other time like driving or running I listen to audiobooks or podcasts. It is a perfect time to get inspiration and information with minimum energy expenditure and make every learning opportunity count.
Started big..
I started of with around 15 podcasts but after I while I got overwhelmed and could not digest all of them,  so after a while I limited it to around seven, not only because seven is a magic number but because it worked for me. For a while! But now I am back to around 12. And I say around because as you will notice when you read further down this article that one is not really a podcast but a CD and I will explain why I consider it my favourite podcast.
Structure of this article
This article will be structured in the following fashion, first I will give an order of "importance" from FLAWD perspective which Podcast you should implement, then we will desiccate each podcast with the following structure:
name of podcast
podcast link
short information what I think it gives
top 3 takeaways from the podcast,
no 1 CTA (Call To Action)  so far
Favourite episode and link to it, and a
Rating: 1-5 (5 being best)
then we are done :)
On random order of greatness: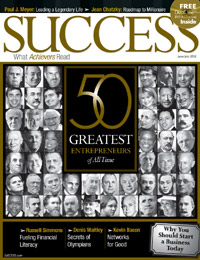 this is Not a podcast, but it has a similar structure. It is available online – if you subscribe to SUCCESS Mag digital editition (20 USD/year – very cheap!)  It comes out once a month and it is usually Darren Hardy that does the interviews. They have focus on improvement of course, but usually it is marketing tips and tricks from famous authors and entrepreneurs. This is a MUST and well worth the very small investment in money, and time. Also available as CD if you are driving. I am hoping they turn this into a podcast to sync into my normal podcast routine. For now I download them digitally and put them as playlist in Spotify.
Frequency: 1 a month
Length: 1 hour
Cost: 20/year
Takeaways: motivation, inspiration and learn from others
CTA: to always have CTAs :)
Fav episode: Louis Zamperini, a olympian, a raft survivor, war POW, a survivor. The book: Unbroken, is based on Louis life. And this interview is just great.
Listen to it here: Interview with Louis Zamperini
They are actually making a movie of this book being released later this year: Watch the trailer

Rating: 5/5
This is as close to a FLAWD-podcast there is. Dave Asprey are using food and training to optimize your cognitive perception, thinking better, sharper and just getting better results in ALL areas of life. BULLETPROOF has several products as well, and soon a chain of coffee shops promoting Coffee.
Frequency: around 2 episodes a week
Length per episode: 1hour
Cost: free
Takeaways: you can hack your biology with food, fat is good,


"eat what you want, as long as you get the results and performance that you want "

CTA: Bulletproof coffee is a great way to start the day (read more in our article about coffee)
Fav ep: Hard but I think it must be Kelly Starrett – #43 Bulletproof Your Mobility and Performance – which presented me to MobilityWOD which has had a HUGE impact on me. Read more in our posture article.  
Rating: 5/5
Great podcast with health and fitness focus by Ben GreenField. Ben gives great Biohacking tips, i.e. what to eat, why and how to achieve optimal health. Ben is an active coach and focus in on triathletes and endurance sports, however the tips and discussions cover interesting topics like biohacking, sleep, techniques, technology and current research from the top fitness experts in the world. Ben has a very open mind to new things. The only issue I have with this podcast is that they usually "talk slow" (for me at least) so I speed things up by listening in 2x speed in my podcast app.
Frequency: around 1-2 episodes a week
Length per episode: 1.2 hours
Cost: free
Takeaways: Minimalist training protocol, swim run protocol,
CTA: Test your limits, track them, improve and keep going.
Fav ep: Is one of the later ones called:

Rating: 4/5
Very interesting podcats by Pat Flynn, a nice down to earth guy who decided to go for broke online and gives tips and insights on how to create, maintain and thrive online with various techniques. Business and metrics oriented but very easy to understand and follow.
Frequency: 1 a week
Length: 1 hour
Cost: free
Takeaways: inspiration for online business, great tools and tips, and create value online.
CTA: You can  create a online business right now, today!
Fav episode:  SPI 046 : Building a Lucrative Business with No Ideas, No Expertise & No Money with Dane Maxwell – simply an eye opening episode about how you can have no skill, no idea of how to run a business. You only need to ask a couple of questions and then you have a business.

Rating: 4/5 
Read To Lead podcast just resonates very well with me, since I love to read. This is one of the best podcast voices and really down to earth nice guy: Jeff brown. Jeff has a radio background and has great guest and the focus is of course to Read, so it is mainly authors of books that are guests.
Frequency: 1 a week
Length: 40 min great length!
Cost: Free
Takeaways:Read more books!
CTA:  Start reading a book from their list right now.

Rating: 5/5 
Unbelivably useful information. As a Security Professional there are so much information and so many podcast out there like.
All of them are good – and I occasionally listen to them. The difference here is that Johannes Ullrich keeps the information short and crispy in his podcast and straight to the point in a very digestible way. The episodes are around 5 min which is a PERFECT way to start the day with crisp new security information. Comparing this to for instance Security Now which has both commercial breaks and where they talk for more than 1 hour. This is a great podcast.
Frequency: Daily
Length: 5-6min
Cost:  free
Takeaways:  Security Awareness about current issues.
CTA: Two-factor, common sense.

Fav ep: none however Johannes always mentions where he is. Usually it is in "jacksonville florida". A nerdy thing to d

o is to guess where he is in this episode! :)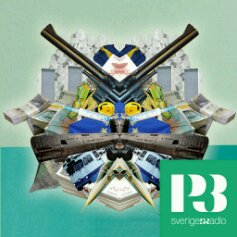 When going on a low information diet (we talk more about this in our OFFLINE MONTH post) you don't really follow the news flow. BUT some events in history stand out and are both fascinating, interesting and a great opportunity to learn and just be amazed by  real events! :)
P3 a Swedish public radio station and have created an extremely good podcast, covering mainly swedish historic events. The lengths of the episodes are ranging from 1 to 2 hours. Issues like "Trustorhärvan", "baseball ligan", "Svartenbrandt" and other significant events are covered. A good english counterpart for this podcast could be BBCs History Hour
Frequency: ?
Length per episode: 1-2hours
Cost: free
Takeaways: History teaches us many lessons.
CTA: Don't repeat historys mistakes. Repeat the successes.
Fav ep: Trustor Härvan – about how a couple of guys scammed more than 100 million SEK and had extremely wild parties.
Rating: 4/5
Short and crispy tips on how to get things done in a structured way.
For the most part these episodes are value adders and very useful with a practical application for the most part and the length of these podcast are usually 5-7 minutes which makes it very digestible and easy to consume
Frequency: 1 a week
Length per episode: 10 min
Cost: free
Takeaways:  Gantt charting, producitivty apps, mindset
CTA:
Fav ep: none.
Rating: 3/5

Where Ordinary Guys Become Extraordinary Men…
The "AoC" is a great podcast if you want to improve your career, confidence, lifestyle and love-live from top experts like life and business-hackers; Tim Ferriss, Ramit Sethi to Seth Godin and more. Their main focus is to improve dating skills for men, but it will effect all areas of your life, this is a must subscribe podcast for all self-improvers.
Added to this list: 2015-05-21
Frequency: 2 per week
Length per episode: 60 min
Cost: free
Takeaways:  Mindset, business, self-improvement, social engineering, social skills.
CTA: "Get out there and get social, and leave everything and everyone better than you find them"
Fav ep: none.
Rating: 5/5

The podcast is based on the parable:
"An old grandfather told his grandson: "My son, there is a battle between two wolves inside us all. One is evil. It is anger, jealousy, greed, and resentment. The other is good. It is joy, love, hope, humility, kindness, empathy, and bravery." The boy thought about it, and asked, "Grandfather, which wolf wins?"The old man quietly replied, "The one you feed."
It takes conscious, constant and creative effort to make a life worth living. This podcast is about how other people keep themselves moving in the right direction – how they feed their good wolf.
Added to this list: 2015-05-21
Frequency: 1 per week
Length per episode: 30-40 min
Cost: free
Takeaways:   meditation, mindfullness, mindset, bhuddism
CTA: be nicer
Fav ep: none.
Rating: 3/5

Tim Ferris is one of the authors of our post: 10 books that will change your life forever, and  he is a self-experimenter and bestselling author, best known for The 4-Hour Workweek (which is the book we recommend). In this show, he deconstructs world-class performers from all different areas in life (investing, chess, pro sports, etc.), digging deep to find the tools, tactics, and tricks that listeners can use. 
Comment: the first episodes where somewhat dissapointing being a TF fan, but since then Tim has improved the podcast immensly and the quality is extremely good and the guests are well known and his interview skills has improved. Only negative thing is that the episodes are too long for my taste (> 1hour)
Added to this list: 2015-05-21
Frequency: 1 per week
Length per episode: 1,5 hours
Cost: free
Takeaways:
CTA: Never stop improving, never stop optimizing.
Rating: 4/5

Internet Business Mastery teaches you how to use "Web 2.0 strategies" combined with classic internet marketing principles to build passive income streams and brand yourself as an expert (or even an online celebrity). Whether you're starting a new business or looking to improve your current one, you'll discover techniques that will boost earnings, increase lead generation and extend your personal/business brand. Very inspiring if you have or want to have internet business and create a passive income, short and crispy episoded ranging from 20-50 min
Added to this list: 2015-05-21
Frequency: 1 a week
Length per episode: 30 min
Cost: free
Takeaways:  Automation, online income, product creation
CTA: Theres only one way  to fail, and that is to quit.
Rating: 3/5

Ofcourse you should listen to our own podcast: The FLAWD Podcast! Its all about getting to know the different peoples focused lifestyles and their winning disciplines.  Focus areas are: CrossFit (health), Productivity and Personal development. Episodes are 40-60 min long and very inspiring.
Added to this list: 2015-09-06
Frequency: 1 every other week
Length per episode: 50 min
Cost: free
Takeaways:  Productivity, openness, apps, mental toughness, fitness
CTA: There is always a way forward and if you dare you will win
Fav ep: ALL
Rating: 5/5
How to listen to podcasts

I use Pocket casts which is one of our favorite FLAWD apps. Because it supports both iOS and Android if and when I switch phones and tablets I don't have to reconfigure anything.
How to make notes from podcasts
IF I want to make a note of something that was particularly useful in a podcast, Pocket Casts has a "click-share-position-in-episode"  function which is very useful. Like this:
Then you can email that exact position to a friend/yourself/or add it as a Evernote Note. Or you can just write your note in your Evernote log over and tag it #podcastnotes and #podcast name. In the beginning I took an immense amount of notes.
Don't worry, its not that big of a deal if you miss some information. You will get it next time, I promise. :)
Currently we are looking for podcasts about:
CTA: Take one of the above podcasts and start to listen to it
Which podcasts are you listening to?
Did you like this article?
Let me know on  twitter: 

And like us on Facebook
[/fusion_builder_column][/fusion_builder_row][/fusion_builder_container]
Subscribe to our free newsletter.
In episode #067 We meet Harry the co-founder of Sorted. A productivity app for "Hyper-Scheduling". Please give the podcast 5 star review an tell everyone you know. Thank you. Subscribe: iTunes | Spotify| Amazon | Android | RSS | Stitcher |Acast Selected Links: sortedapp.com Listen Books Remente Coach.me Read Crossfit Swimming Running Experience In Gothenburg? Join Peters […]